UTRECHT, Netherlands - Utrecht police say a 21-year-old Dutch man is recovering after a "mooning" that went horribly wrong.

According to a police statement, the man and two others had run down a street in Utrecht with their pants pulled down in the back "for a joke."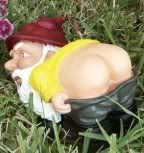 It says that at one point the 21-year-old "pushed his behind against the window of a restaurant" that broke and resulted in "deep wounds to his derriere."
what idiots.
Continued...